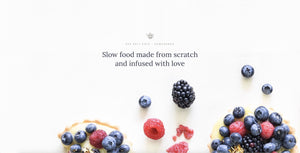 About us
Sea Salt Cafe originated from a passion for delivering quality food and coffee combined with a flawless experience within an artful and warm setting. Staying true to that, we curate food for you and your conscience, so it looks good on the outside and feels good on the inside.

Every dish we create is born out of a deep respect for the ingredients we use, where they come from and how they are sourced. Our aim is to blur the line between fork and field. Rather than procuring ingredients to fit recipes, our chefs focus on overhauling the menu several times a year to include seasonal produce and maintain a sustainable approach.
At Sea Salt, we bring you creative takes on baked goods and moreish desserts; we bring you food that highlights locally sourced ingredients of the highest quality - showcasing an amalgamation of regional flavours and global culinary techniques, as part of an ever-evolving menu, in a comforting ambience.